When it comes to roofing, most homeowners think it's a one-shape-fits-all affair, but that's not the case. There are many roof types, all serving a different purpose and more suitable for particular building styles and weather conditions. Before installing a roof for your home, it's important to know which roof is which, what's most suitable for your needs, and the pros and cons of each roof type. With so many choices, it can be a challenge to select the roof type that works best for your house architecture, your personal taste and budget.
Before making this huge decision, it's advisable to weigh your options carefully. In this article, we will discuss the pros and cons of the most popular roof types and designs available for a wide range of building styles.
Gable Roof
This is a classic and popular roof type in many homes in the US. It's also known as a peaked or pitched roof and features a triangle shape that's created by two sloping faces of the roof that meet at the top ridge. These roofs are an excellent choice for homes with separate wings and can be covered by almost any material, like shingles, metal, concrete tiles, clay, and terra cotta. There are different types of gable roofs like side gable, crossed gable, Dutch gable, and front gable as well.
Pros
Easily shed water and snow
Added space for the attic or vaulted ceilings
Allow more ventilation
Simple design and classic styling for homes
Easy to build and cheaper that other complex roof types
Cons
Can be a liability in high wind areas
Potential roof collapse if roofing frames are not properly constructed
Hip Roof
This roof type has slopes on all four sides and can be easily customized to add a personal touch to the overall style. They can also be made with almost any material, like tiles, shingles, and metal. Hip roofs come in two main types: simple hip and cross hipped.
Pros
Stronger and more stable than gable roofs
Excellent choice for snowy and high wind areas
Additional attic space or living space for vaulted ceilings
Cons
Complex design makes it more expensive to build
Construction errors or lack of maintenance can lead to major problems like leaks
Mansard Roof
More complex than the hip and gable roof types, mansard roofs (also called French or curb roofs) feature two separate slopes on all four faces that meet to form a pitched roof. The lower slope is usually designed to be much steeper than the upper. Sides can either be curved or flat, depending on the building style. This types of roof can take different designs including convex, concave, and straight-angle.
Pros
Roof design provides usable space on upper level of home
Style can allow open or closed dormers for a more aesthetic appeal
Allows flexibility for future home extension or additions as needs change
Cons
Not ideal for areas that experience heavy snowfall
A complex design means it's more costly and labor-intensive than typical roofs
Gambrel Roof
Also called a barn roof, the gambrel roof is much like the mansard roof, only that it features two sides instead of four. They're mostly used in Georgian and Dutch colonial style homes as well as barns, log cabins, and farm houses. The materials used depend on the style of the house, such as slate shingles, metal, asphalt, and wood.
Pros
Ample space beneath the roof provides potential expansion space
Great option for outdoor storage buildings and sheds
Lower material demands and less expensive than mansard roofs
Cons
Not ideal for high wind and heavy snowfall areas
The open design can cause roof collapse under immense pressure
Note: If installing a gambrel roof in an extreme weather area, use reinforced trusses on the upper pitch. This can help avoid hidden dangers behind the walls.
Flat Roof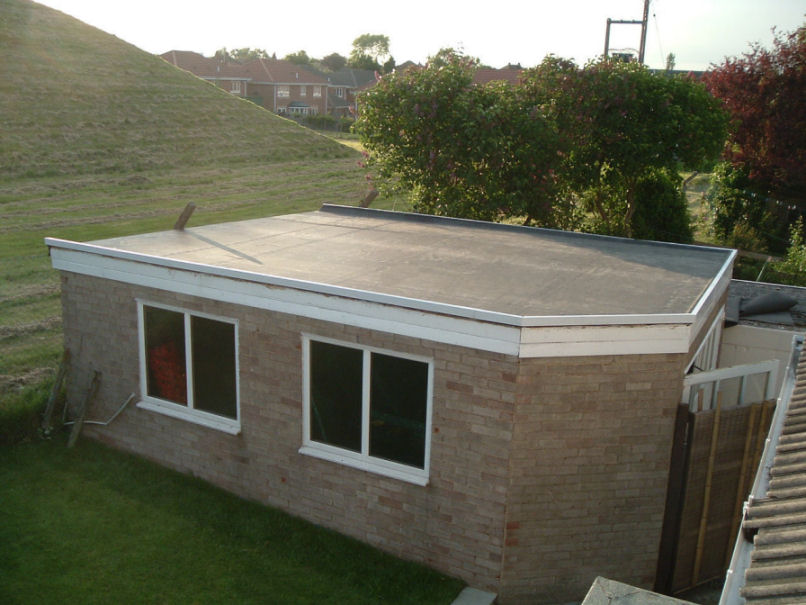 This roof type is completely flat with no pitch. However, a slight pitch is allowed for drainage and water run-off. These roofs are popular options for commercial and industrial buildings, but can also be used in residential homes in high and low rainfall areas. Common materials used include roll roofing, PVC, metal sheets, tar and gravel, TPO membrane, and rubber membrane.
Pros
Provides additional living space on the roof for a garden, patio, or a partial enclose
The design is a great option for installing solar panels for "green energy-efficient" homes
Easier to construct due to reduced building materials
More affordable due to the simple design and installation requirements
Cons
Low pitch makes the roof more susceptible to water leakage
Can be more costly to maintain in the long run
Skillion Roof
This roof type is also known as a shed or lean-to roof, and is a single sloping roof that's attached to a taller wall, creating an offset appearance. It's ideal for modern home architecture and house additions and porches. Best roofing materials include standing seam panels, asphalt shingles, tiles, and metal.
Pros
Easy to assemble and install
Uses way fewer materials than other roof types
Steep pitch allows easy snow and water runoff – perfect for high rain and snow areas
Great option for architectural and aesthetic appeal
Cons
High pitch mostly results in low ceilings
Homes that only use this roof type in high wind areas can face roof problems
Curved Roof
This roof type is almost similar to the shed or skillion roof, but the planes are usually curved. This roof style is modern and offers homeowners various creative and unique options. The curve can vary from an arch shape to slightly-curved. It's becoming more popular for modern architectural building styles. Metal is the best materials since it can be bent to any shape.
Pros
Aesthetically pleasing
Highly customizable to fit various requirements like weather conditions in an area
Can be built in different styles
Cons
The more complex the design is, the more costly the roof is
Saltbox Roof
This is an asymmetrical roof that comes with one slight slope and one dramatic angle with gables at each end. A popular variation of early colonial and Cape Cod home architectural styles that arose due to the need for more space. Most roofing materials can be used to build this roof.
Pros
Easy water and snow runoff due to high roof pitch – good for heavy rain areas
Potential for additional living space
Cons
Roof design can be complex driving costs higher
Although extra space can be provided, rooms may have slanted ceilings
Sawtooth Roof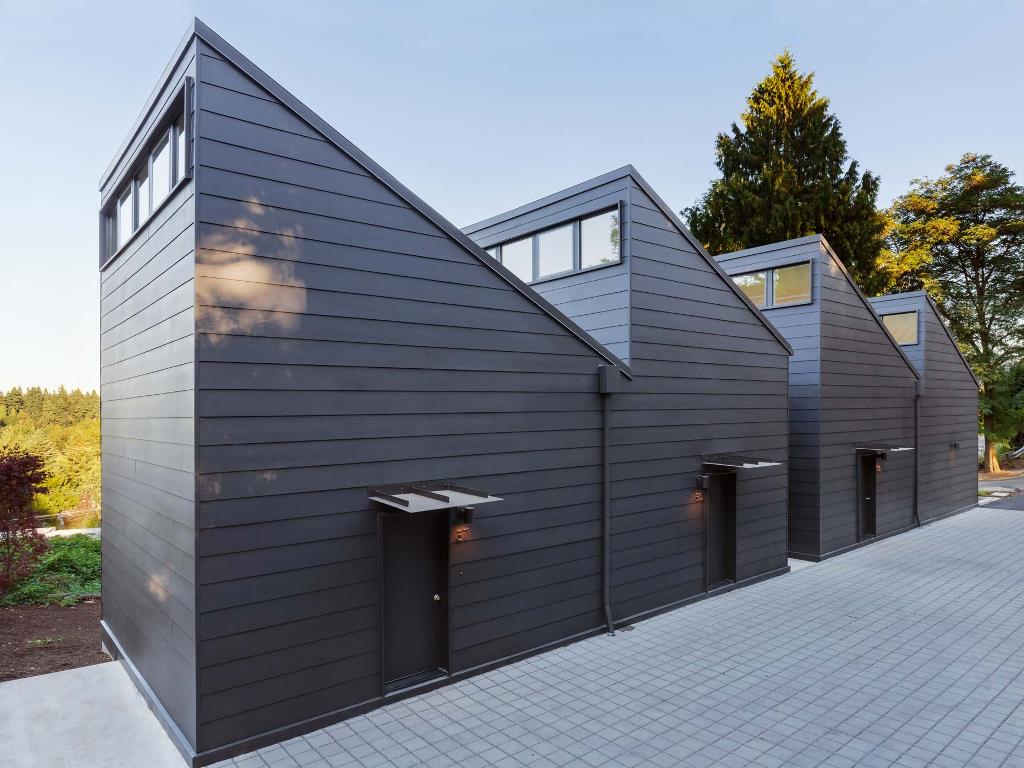 These are two or more roofs that are placed parallel to one another, with vertical surfaces facing the same direction. It resembles a side view of an actual saw blade when viewing from the ground. Originally used in industrial and commercial buildings, it's now being used in modern home design. Common materials used include wood, reinforced concrete, and metal.
Pros
Windows on either of the vertical spaces of the roof allow more natural light indoors
Higher peaks allow additional space for loft living or vaulted ceilings
Perfect choice for eco-friendly homes – solar panel installation
Cons
Building materials needed and the complexity of the design makes it more expensive
High maintenance roof due to additional windows, varying slopes, and valleys
Not ideal for heavy rain and snowfall areas due to potential leaks
Bonnet Roof
This is a modified version of the hip roof and features two slopes on all sides. It's sometimes called kicked eaves. The upper slope is set at a higher angle, with a low angle slope on the bottom. Although not common in modern houses, they were mainly used in French vernacular style and can be seen in areas like Mississippi Delta area and Massachusetts. Any material like metal, natural stone or shingles can be used for construction.
Pros
Upper slope can provide extra space for a small attic or vaulted ceilings
Easy to integrate dormers
Overhang eaves provide water damage protection
Easy runoff and more durable
Cons
More complicated and expensive to construct
More attention is needed on seams where the two slopes meet to avoid leaks
Dome Roof
Down roofs take the shape of an inverted bowl and are a popular option for adding a dramatic appeal to a home. Mainly used for cupolas and gazebo structures and a popular housing architectural style based on Italian and Russian Renaissance styles. Metal shingles are the most preferred building material.
Pros
Highly durable and appealing in look
Cons
Complex design and expensive to construct – prefabricated options are available
Pyramid Roof
Like a hip roof, all four sides meet at the same point at the top of the roof, with no vertical gables or sides. They are a great option for smaller buildings such as cabins, bungalows and other structures like garages, pool houses, and storage buildings. Suited well for almost any roofing material, especially metal, tiles and shingles.
Pros
Ideal in areas prone to hurricanes and high winds
Additional space for attics, ventilation, storage space, and high ceilings under the roof
Cons
Higher cost due to the complex design
Combination Roof
This roof type incorporates two or more roof types in the overall design. The most widely used combination today is hip and gable roofs. It's a great option to complement different house styles, both ultra modern and traditional. Materials used can vary depending on specific design elements.
Pros
Limitless customization opportunities
Adds architectural uniqueness
Cons
Costs rise with the complexity of the roof design
Additional roof ridges and valleys come with potential roof weaknesses like leaks
Conclusion
When choosing a roof type, it's important to know what type is most suitable for your area. For instance, if you live in a snowy region, you'll want to consider a high pitch roof for easy runoff. Discuss the different roof types and options available with experienced roofing contractors in your area before making any decisions.
updated: May 2022