Bushes, vegetable patches, potted plants, climbing lianas, etc., are some of the things that act as appealing aspects that make our outdoor lawns and gardens look gorgeous by tenfolds. And if the image of greens, rocks, and fences bring butterflies to your belly, it's time that you find your garden's ideal match for wall retaining ideas.
They not only beautify your place but are also beneficial for holding the flora and soil of your yard. So without wasting more time, let us look at the 10-best stunning wall retaining ideas:
1. Entwined Brick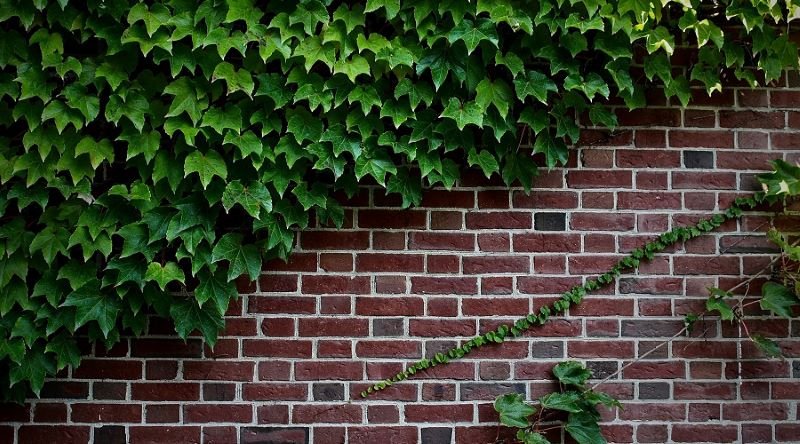 The entwined brick style is one of the classic and most popular wall-retaining designs of all time. It is easy to decorate and is the perfect backdrop for hanging pots, lush greenery, creeping flower climbers, and dense-leaved trees. To get the best of this pattern, you can experiment with different color palettes for stones and bricks. Shades like neutral gray, brown, and brick red naturally mesh with the surroundings and create an eye-catching texture.
2. Overlapping Stones
If the concept of complex but simple attracts you, you can opt for the overlapping stone idea. This backyard wall retaining pattern is a people-pleaser and will make your house appear unique in the entire neighborhood. In it, you allow the stones to overlap each other, and as a result, pockets of shadows form throughout the structure that adds more depth and dimension. It comes off as a great wall retainer if you have a larger and somewhat old border with lots of extra space.
3. Interlocking Blocks
The interlocked block design is a fun and attractive wall retaining design that is easy to pull off and needs fewer preparation efforts. In this design, you use interlocking blocks to cover the entire area of the wall. The best way to make it stand out and add depth to your border is by picking out different shaped bricks, like cylindrical, 3-or 4-pointed patterns, and so on. An artsy technique, this decorative formation highlights your surroundings by complimenting the green and non-green elements.
4. Jagged Rocks
If you are hunting for rock-themed wall retaining ideas, this one should be perfect for you. Innovative enough to land on the pages of garden journals, the jagged rocks use irregular and zigzag cut stones to cover or create the walls. Using stone or concrete slabs that cover the wall, you can add an extra dimension to it and give your garden a pleasing scenic look. And since you rely on slabs, it is also effortless for you to manage setting up the whole pattern without doing extra work in shaping the entire structure.
5. Plywood Fence
Inexpensive and handy, this wall retaining design has some of the best concepts that you can execute smoothly. Since you use plywood in this, it gives off a natural and soft-to-the-eyes decor to your wall. It fits easily in any scenery and is super easy to set up because the materials needed are available easily and affordable to buy. And if you are not a big fan of the raw wood appearance, you can paint the pattern and add other fun designs to help bring out the best of your garden.
6. Timber Retaining Wall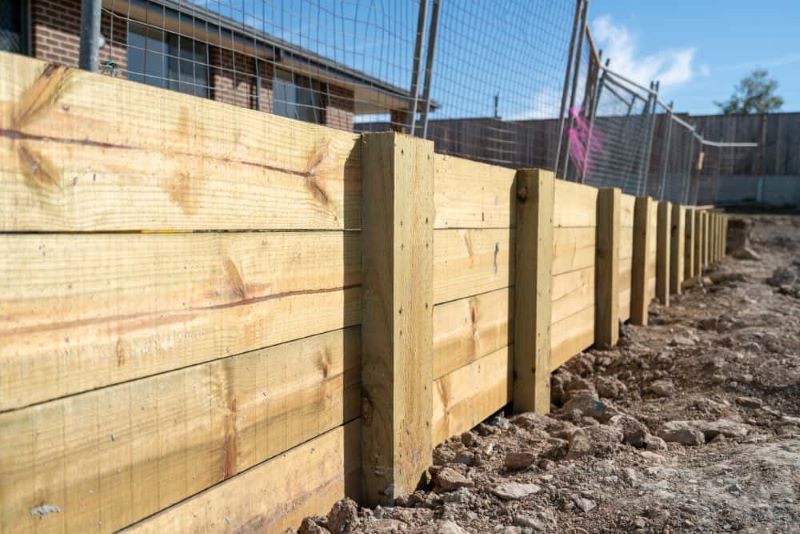 The timber design is easy to set up and comes with numerous features that beautify the scenery around your house. It also acts as an element of compliment to your outdoor park, backyard, or courtyard garden. Available in several options, you can go for stained timber, multilayered timber, 2-tiered retaining wall design, and many more that will beautify your place and provide artistic appeal. Combine with stones and plants to get an exquisite and intriguing decor for your boundary and backyard.
7. Vertical Railway Sleepers
Sleepers are buddies for wall retainers. The perfectly cut and polished wood used in these sleepers blends perfectly with the environment's scenery and makes the whole area stunningly beautiful. You can further add grass and colorful plants to give more extension and beauty to the wall. And since it doesn't depend on size, this wall retaining idea is suitable for all kinds of locations, whether the backyard, front yard, or boundary of your garden.
8. Backyard Garden
Ahoy for plant and succulent lovers! The backyard garden is a clever and environment-friendly concept for wall retaining. Perfect for courtyard and backyard gardens, you can utilize your favorite flora to showcase impressive ideas for designing your wall or borders and creating a setup similar to surreal landscaped jungles. Choose some durable wood or concrete planter boxes, and you are ready to drape your house with shades and greenery resembling the gorgeous outdoor forests.
9. Double Stone
The double stone wall is a unique idea that adds an extra dimension to your retaining borders. Varying stones cut in different shapes and away from each other get used in this backyard wall design. The planter box that acts as the retaining wall is left to be completely different from the retainer wall behind. Its unique layout adds more charm and texture to the overall setting of your house and garden. So if you're looking to flex style and creativity, this wall retaining design is ideal for you.
10. Shapes and Lines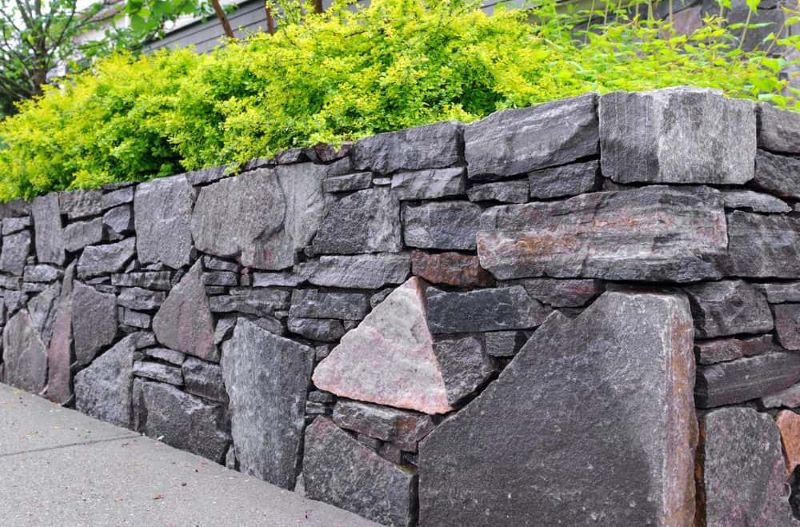 These elements aren't only associated with mathematics and art textbooks (that's a relief for me). The ideal dream for garden enthusiasts and creative minds, this wall retaining concept creates a stunningly eye-catching mosaic view by incorporating various textures, colors, lines, shapes, and patterns of pebbles and stones. And if you wish to make it more distinctive and a wing of your taste, you can also change the grout between the rocks by going for lighter or darker tints.
Conclusion
So these were some of the best wall retaining ideas that you can use in your garden for decorating your lawn and fences. And it's not a hard-and-fast rule that you must only use one concept at a time. You are free to use your creativity and experiment with various parts, and create your wall retaining design. It could be timber, rocks, plants, anything, and everything. You're free to explore with the flora, colors, and your surroundings.
source/credit: breakout.in