Unlike employees with nine-to-five jobs, the responsibilities of business owners don't end after clocking out. With a long list of management tasks, it's just unrealistic to get them all done within the usual work hours.
However, bringing your work home poses multiple challenges. For instance, it can be difficult to establish a work-life balance. Moreover, without the conveniences of proper office equipment, it can be harder to stay focused and efficient.
If you find these relatable, upgrading your home office in small, simple ways may help you work more effectively. And by accomplishing things faster, you can spend the rest of your time on rest, leisure, or bonding with your family.
Below, we'll list down some essentials that can amp up your productivity while working from home, but before we get started, here are a few tips for elevating your workspace.
Planning Your Home Office
If you already have an office in your residence, take some time to assess the space and list down things you don't like about it. On the other hand, if you're just beginning to set up, take a moment to visualize your home office.
Carefully consider what you would need to work from home conveniently and comfortably. What are the items you must have within reach and what must be nearby but can be stowed away?
Also, is the current location of your workspace appropriate or do you want to move it to a different area? If you're still in the planning process, consider where you would like to set it up. Ask yourself a few questions before making a decision.
What do you require for a home office? Do you mostly work on a computer or need extra room for printed documents and additional equipment?
Do you primarily work online? Is a speedy and dependable internet connection vital for your job?
Do you want to make your home smarter with automation systems to save time and effort on managing your space? Will automating your home office help you stay productive?
Do you intend to hold virtual meetings with your employees frequently? What do you want to see in the background when you're on a video call?
Do you have any children or pets? Do you need a peaceful and isolated environment where you can work without disturbance or noise?
Once you've decided on the best location and features for your workspace, start making a list of everything you'll need to transform that space into your ideal home office. Ensure that you will only add the necessities and get rid of anything impractical and insensible. Remember, it's easier to perform well in an organized and spacious office than in a crowded and cluttered one with items that don't serve a purpose.
To help you out, here are some home office essentials you can add to your list:
1. Computer
Consider whether you want a desktop computer or a laptop. Both have their pros and cons, and the choice boils down to your needs and preferences.
For example, if you value portability, a laptop is the obvious answer. Because it's compact, you can move it away from your desk from time to time and bring it to other rooms. However, if you think staying in a single location can help you focus better on your work, a desktop set would be better. Desktop processors are also more powerful and larger, so take into account the types of work that you do.
2. Laptop Stand
If you use a laptop, you may end up slouching unintentionally the entire time you're working. While sitting upright can be exhausting, it will provide you extra energy and even help brighten your mood. In the long run, it will also aid in the prevention of chronic back pain. Use a laptop stand to elevate your computer and bring your posture upwards while you work.
3. Work Desk
Opt for a simple and minimalistic office desk with enough space for your computer, monitor, and other items that you keep near you. A standing desk with an easy-to-adjust electric system can also be a great choice.
4. Ergonomic Chair
Investing in a high-quality chair can help safeguard your back and prevent pain and injury. Choose a height-adjustable ergonomic chair designed to properly support the body. Also, make sure it helps with improving your posture and offers adequate comfort.
5. Headphones with Noise Cancellation
Are you going insane trying to get work accomplished with your family or housemates in close vicinity? With a pair of noise-canceling headphones, it's not an exaggeration to say you can tune out the entire world. You can also communicate more smoothly with your team during online video conferences, thus ensuring effective collaboration.
6. Water Tumbler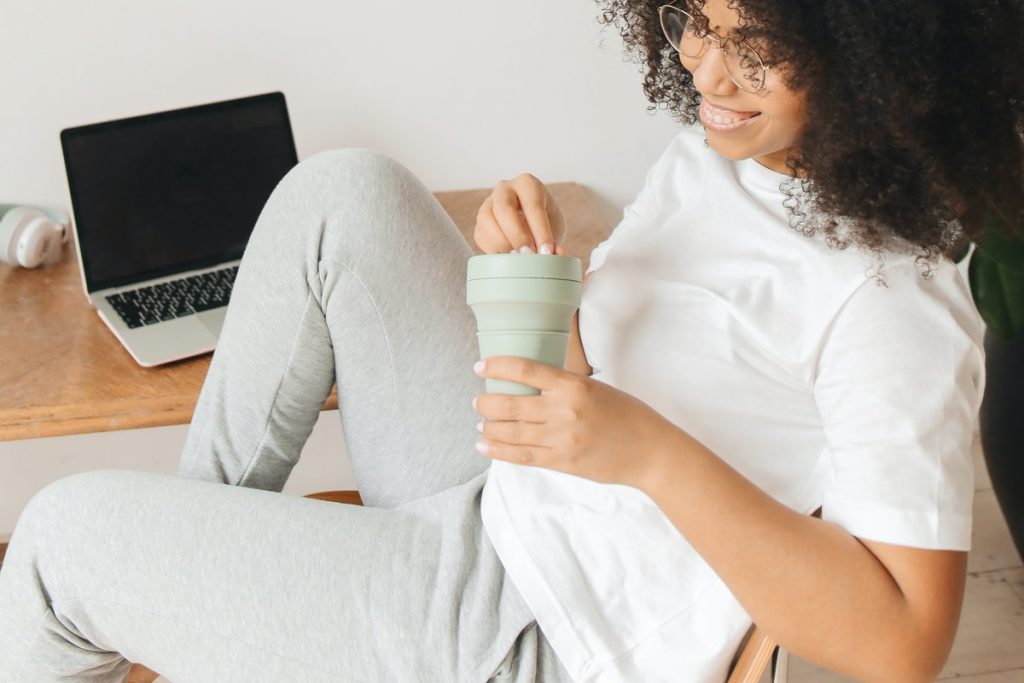 Did you know that dehydration actually affects cognitive functions? It's been found that the brains of adults with low water levels work much harder than normal to complete engaging tasks. Hence, if you want to seamlessly carry out tasks, H2O is your best friend.
A handy water tumbler can make it easier for you to stay hydrated throughout the day. Choose a vacuum-insulated container to prevent moisture from accumulating outside (no need for a coaster!) and keep your beverage cool or hot throughout the day.
7. Scanner and Printer
This may not be relevant to some, but it is critical to others. Having a dependable printer and scanner in your home office can save you many trips to the print shop. Opt for a design that suits your taste and consider its build quality and ease of use.
8. Bluetooth Mouse
A quality computer mouse can help increase precision and quickness. Choose one with a size and weight that fits your hand comfortably.
A Bluetooth mouse provides unlimited convenience since it is wireless and you don't need an available USB port to connect it to a computer. It's also compatible with most computers and can be moved from device to device easily. Plus, the battery life of many Bluetooth mice typically runs one to two years.
9. Planner
When you need a break from staring at a screen all day, try arranging daily tasks in a journal. You can get a 2022 planner, but any type of notebook will suffice. Writing things down can also help you remember them better. Plus, who could resist a cute, aesthetic planner?
Working from Home
Managing a business remotely can be tricky. Nonetheless, with the right tools and a secure, pleasant environment, you can master the art of balancing work and life. Moreover, keep in mind that even the richest business tycoons need to take a rest regularly, so be sure to allow enough time for relaxation and enjoyment.