The tiny home has become a hot trend in the US as people consciously invest in it for a simple yet comfortable living inspired by a minimalistic theme. Since it has limited space, you have to work out every interior detail thoughtfully. You cannot walk into a local store and pick up any appliance you require. When you build your tiny house, your focus has to be on space-saving features. It is more relevant when you talk of a large ticket item, such as a kitchen sink, which helps you perform many tasks throughout the day, from water filling to meal prep to handwashing.
Regardless of the size, any sink has to be functional. And when you live in a tiny house, you would want such items that make your daily life easy. So it would be best if you kept this factor in mind at the time of the building process. As such, you get multiple options in kitchen sinks in the market. Not every option can be suitable for your dwelling due to the small space. That's why you would want to be a little careful also. Here is a quick rundown of how you can go about your shopping for this product.
What to avoid?
Stay away from double bowls and apron front sinks. Farmhouse or apron sinks need enough room for installation, and the same applies to double-mounts. Again, you cannot choose a sizeable undermount model. With a bulky undermount sink, you would run out of an underneath area that otherwise could come in handy for storage. In a tiny home, you cannot afford this as every centimeter or inch matters. You have to visualize the entire space at once. You cannot just go after a preferred sink design. Its utility in the available area and performance should form your decision.
What to choose?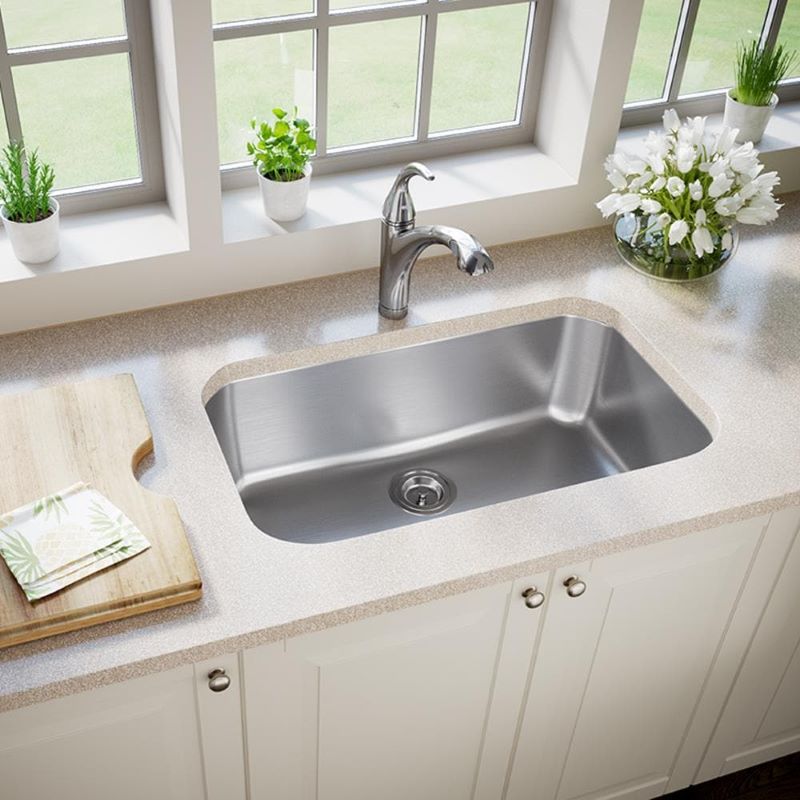 Usually, people opt for bar and prep sinks for their tiny houses because of their smaller size and ability to adjust quickly, even in a weak countertop. In this, you can even opt for an undermount version, for it wouldn't eat much into the storage space. You would still have sufficient room for storing cleaning supplies and a few other items. Plus, the relatively lightweight designs would be quick to install. For an idea, you can take a look at a Kraus bar prep appliance. Since these sinks tend to be 15″ in size with an excellent rectangular or square shape, you can fit them anywhere in your tiny house kitchen. If it is 18-gauge Stainless Steel material, it would be even better.
No matter what type of single bowl bar and prep sink you select, you can rest assured that it wouldn't steal your countertop space much. However, it would have a stunning depth to perform your cooking and cleaning tasks efficiently. It would be great if the position of the drain is slightly away from the center. This feature enables you to store more dishes. Besides, it wouldn't pool dirty water, usually when the drain opening gets covered with utensils.
Nowadays, these appliances come with noise defense technology equipped with thick pads. When you run water, the metal surface wouldn't create too much noise, allowing you to work peacefully in your kitchen. And other members in the house will also be able to focus on their chores without any disturbance. You cannot overlook this aspect, especially when you live in a tiny home where even disposal and dishwashing noise can feel too overwhelming.
Some undermount bar and prep sinks feature free accessories, including a useful basket strainer set, kitchen towel, or something else. These few extra highlights can make your purchase more comprehensive and wise. Still, things can vary from one brand to another. So it would be best to check all the features with thorough attention before picking anything. If you get something with soundproof pads and a thick stainless steel base in a compact build, you won't take too long to decide.
In essence, when you look around for a tiny house kitchen sink, keep these things in mind:
A small and compact sink that can easily fit into a smaller space
A sink should be deep enough to ensure maximum functionality
A sink that is installation ready and doesn't involve any complications
A sink that still looks stylish
How to care for or maintain a stainless steel bar and prep sink?
Stainless steel is a friendly surface when it comes to maintenance. Regular cleaning is enough for its health. However, if you don't want to take any risk, go through the company's manual for instructions. They usually give you a detailed insight into the cleaning process. For example, a high-end steel sink would maintain its shine and finish if you rinse it after every use with the help of a soft sponge or cloth. Steer clear of abrasive materials, such as steel wool, bleach, and others for its beauty.
Some people habitually leave pots and utensils in the sink for long hours. Sometimes, they don't even pay attention to the water accumulated on the bottom surface. These are not the best practices if you want your sink to stay in its original condition for many years.
Nevertheless, you can deep clean it occasionally with an ammonia-free, mild dish washing solution. Rinse the soapy surface with clean water and wipe it dry with a soft fabric. It would hardly take 10 to 15 minutes based on the condition of the basin. And for its luster, you can buy a quality stainless steel cleaner.
A thoughtfully-designed appliance like a kitchen bar and prep sink wouldn't make you feel as if you are compromising with your comfort or style preference. Its deep basin and incredible features would cater to every requirement you may have. So don't doubt if your tiny home would give you everything that you need for a hassle-free and enjoyable living. A compact sink and many such features bear testimony that you can have a wonderful life even within a small space.