It's tough to make a space your own, when you don't own the place. And chances are, your rental kitchen has left some things to be desired. Lack of style, storage space and functionality are the usual complaints.
However, renters generally don't have much leeway, when it comes to the changes they are allowed to make in their kitchen. Instead you'll have to get creative. Visualize the kitchen you want and then merge the ideas with the kitchen that you have. The only catch is that your changes must be temporary.
Of course, you could always discuss your ideas with the landlord, to see if some small, yet permanent changes are a possibility. In fact, your landlord may not only approve of the changes, they may be grateful for the much-needed upgrades.
So, don't shy away from attempting the stylish Cape Cod kitchen renovation that you've always wanted. Yes, you can create this heaven for yourself, you'll just need to take it apart at some point.
Now, you may be wondering how to do this without violating your lease. The following sections will explain some temporary ideas for renovating your kitchen in a borrowed living space.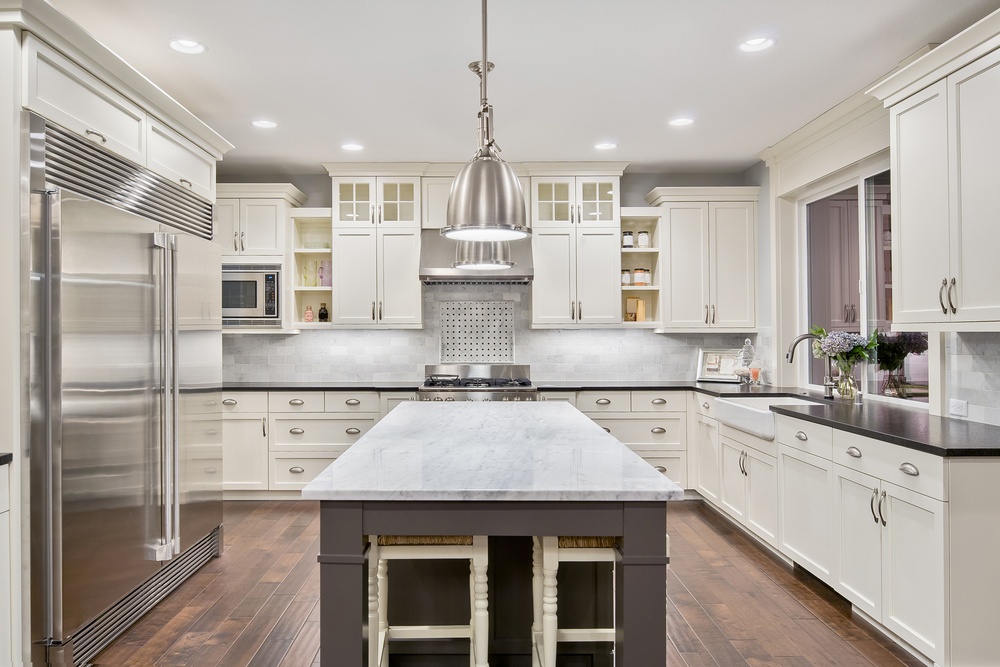 Smart Storage Hacks
When people have complaints about their kitchen, the need for more storage space is number one on their list. Without a place for your items to go, the kitchen gets cluttered and nothing is ever where you need it. Get rid of these issues with the following solutions.
Free up counter space by getting rid of your knife block and attaching them to a magnetic wall mounted block.
Get a peg board and hang your pots and pans. This is also a good place to put large utensils, keys and other items.
Get more room in the drawers by removing the large cooking utensils and placing them in a vase or tall cup on the counter.
Make use of drawer organizers, or use thin strips of wood to organize the drawers yourself. This will maximize the use and decrease clutter.
Place crates on their sides and stack them up to create a cubby. Small crates can be useful for things like spices.
The next area you'll want to tackle in terms of storage are the kitchen cabinets.
Makeover the Cabinets
It's bad enough when your storage space lacks functionality, but it's even worse when it's an eyesore too. Generally, one would reface or replace kitchen cabinets, but there are cheaper and temporary options available too. Transform those unsightly, underused cabinets into practical beauties with these tips.
Ask for permission to paint the cabinets. If they look terrible, your landlord may be glad for the change, as it could raise the property value.
If you can't paint, try using removable contact paper. it comes in plenty of decorative designs and can help you to really make a statement in your kitchen.
Get the open shelving look by removing the doors. Make sure to store them in a safe place for reattachment when you leave.
Add contact wall paper to the inner walls of the cabinets to make them stand out. If you want to hide open shelving, try hanging fabric with a nice pattern.
Upgrade the hardware. Replace handles, knobs and pulls to something with more character. You can also make pulls pop by covering them in decorative tape. There are lots of different options from a variety of brands.
After the storage has been sorted out, you can turn your attention to the flooring. This is something many people can't wait to change in their kitchen.
Better Flooring Options
More often than not, the floors in a rental apartment can look seriously beat up. They're usually loaded with scratches and stains. No matter how much you wash them, they never look clean. Since you can't swap them out, why not cover them up? This remodeling hack for your kitchen will completely transform it.
Your simplest option is to throw some eye-catching rugs or runners on the floor. Place them strategically to draw the eye and cover up the rest of the floor.
Vinyl floor decals can dress up boring floor tiles or hide stains and other imperfections. Just take the design or solid color and stick them right on to a clean floor.
You can get temporary floor tiles that come in all sorts of designs. they look like real flooring but have simple peel and stick technology.
Temporary vinyl planks look just like real wood flooring, but they sit on top of the floor. They interlock without adhesive and are easy to remove.
Once you've taken care of the basic style and function needs, you can start getting into the details. It's time to add a splash of personality to your rental kitchen.
Dazzling Kitchen Design
When you're renting an apartment, it takes a bit of work to make it feel like home sweet home. When you have no control over the walls, windows, countertops or appliances, it can be frustrating. But you can still inject your personal flair and it will start to feel like your own space. Try these tips to style the area like a professional kitchen designer.
Not crazy about your landlord's choice of paint color? Switch it up using removable wall paper or temporary tiles.
If you don't like or don't have a backsplash, you can create one! There are lots of different removable tiles you can stick on your wall. You can even create a temporary backsplash using command strips, panels and a little creativity.
If the windows are something you'd rather look away from, cover them up with attractive blinds. Go cheap and try faux wood blinds instead of the real thing. You can also use tension rods to hang curtains, so as not to damage the walls.
Refinish stainless steel appliances to make them shine once again. It will give your kitchen a new feel. For plain white or black appliances, try decorating them with decals.
Place plants all around for a refreshing look and pops of natural color. Nothing calms the area like nature.
If you're not a fan of the countertops, try using stylish cutting boards to hide them. You can also use contact paper to cover them up.
Hopefully these tips have got your brain gears turning, because there are plenty of ways to remodel a kitchen with restrictions. If you're renting long term, don't be afraid to invest in a quality product that you love. Remember, the best part about these temporary fixes, is that you can take them with you to your next location.
When the day comes, you are standing in a home that you own, you will have this kitchen remodeling experience to guide you. When that happens, you can call in the experts and get the real kitchen countertops, cabinets and floors you've always dreamed of. Until then, stay creative!