Do you find it difficult finding things in your kitchen?
Do you feel like that it takes too long to prepare for a meal?
Or,
Maybe your kitchen isn't set up efficiently.
You know the drill….every time you are cooking or preparing and require something from "that cabinet", you cringe as you open it since you realize what lies ahead…a huge mess of kitchen utensils that you should rearrange in order to locate that little spoon, most likely buried in the back.
A neat and tidy well-organized kitchen is what everyone desires. But most of the time your kitchen along with its arrangements, become an absolute mess and you don't have a single clue on how to organize your kitchen in such a way that working in the kitchen not only becomes smoother but also safer at the same time.
There are plenty of useful tips available so that you can organize your kitchen properly and your working there becomes smoother and much more convenient. Even there are various natural house cleaning products which can help keep your kitchen neat and clean and also healthy at the same time. Proper cleaning of your kitchen along with its cabinets and utensils also helps in disinfecting your kitchen and this is usually the first step towards organizing your kitchen.
Steps to organize your kitchen:
Declutter Your Kitchen
Decluttering is the first step to organize any room, and kitchens tend to have more unique kind of clutter than any rooms.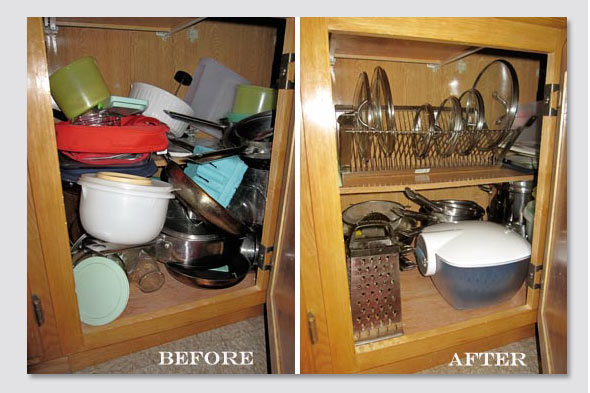 The first step is, take an inventory. Look through your kitchen area as this is the easiest place to start.
Weed out the kitchen tools you never use
Reevaluate whether you really need more than the essential kitchen items in your kitchen.
What do you never ever use?get rid of the bulk of spices that have already expired.
Reboot a junk-food pantry
The above mentioned checklist will help you decide which kitchen tools to plunge or not.
Opt For Uniform Space
Since you want to start fresh, one of the main contributors to kitchen chaos are mountains of mismatched food storage containers.
You need to maximize the amount of space you have in your cupboards with few food storage containers. We would prefer small or medium see through size containers that stack up well that can go well from fridge to microwave to dinner table to dishwasher.
We would even recommend you to organize your spices with neat and clean labels, identical containers periodically arranged in table.
Kitchen Helpers
There are several products available in the market top organize any kitchen, but in small kitchens these products make a huge impact and difference.
For example:
Cabinet – To make things like kitchen accessories, cooking oil, and spices easy to see and grab in your cabinets, use a riser or a Lazy Susan. These products makes things easier to reach in kitchen and makes it look great.
Drawer Dividers – Drawer dividers adds as a great product that can be used in drawers to make spoons, tongs, knives etc easy to find and put away.
Store Items Logically
This leads to the most important point:
"Have a place for everything and everything in its place"
Before handling back all the items on shelves and drawers, plan your movement within the kitchen so that there is a natural flow from one area to the next while preparing and cooking meals. Items you use should be placed easiest to reach, while you can store your items you hardly use higher up in the cabinets. Your cooking utensils like pots and pans should be close to the stove.
These simple suggestions will help you organize your kitchen like a pro and reboot your kitchen.
Cabinet Organizer That Exude Classic Style
With just a few key cabinet organizers, you really can keep the kitchen neat – and set it all up in under one hour.
1. Lazy Susans
Lazy Susans must be the best kitchen invention ever made. Rather than piling up your baking ingredients on top of each other in your cabinets, or reaching blinding for your extra coffee in a blind corner shelf, you can keep everything organized and accessible. This cabinet organizer is easy to install and comes in a myriad of shapes to fit every specific space. Use a pie cut Lazy Susan or a kidney shaped Lazy Susan in corner cabinets. Enjoy a round Lazy Susan in the front cabinets. If you have space for a 2 tier or 3 tier Lazy Susan – splurge on it and enjoy the difference it makes in your kitchen organization.
2. Spice racks
Spices are one of the most used, and most essential, cooking items in the kitchen. When you're ready to cook, you want to know exactly where your spices are and you want them to be easily accessible. One of the best cabinet accessories for this purpose is a spice rack. If you have ample counter space, enjoy a portable counter spice rack. This allows you to transport your spices to your cooking location and to have them at your fingertips. Most of us, however, can't afford this space on the counter. For this reason, a mounted spice rack is often the perfect answer. Cabinet spice racks can be attached to the inside of the cabinet door, keeping the spices accessible – but out of the way without taking up needed space.
3. Drawer dividers
Almost any drawer in the kitchen can benefit from a drawer divider. Even if you have a "junk drawer" in the kitchen, as many of us do, you can still divide your junk for better organization. Purchase a knife drawer organizer to keep your knives organized and easily accessible. Other drawer organizers ensure that your utensils, your cooking tools and your kitchen supplies are all organized and clearly placed.
4. Wicker baskets
Finally, wicker baskets are a perfect way to collect the overflow in the kitchen into a cute container. These versatile baskets create a lovely, rustic look while serving as a location for fruits and vegetables, kitchen towels, and kitchen odds and ends. Even the most organized kitchen does get messy occasionally – wicker baskets create a location to put the overflow while still maintaining the decor and organized look of the kitchen space.
These four cabinet accessories can transform the kitchen space and help the disorganized chef to become more organized. Install just a few of these cabinet organizers, and, without too much energy, you'll be able to sit back and admire your organized kitchen.