Are you living in a pre-owned home with chipped floors and worn off tiles. Do you hear a creaking sound when you are just walking into your bedroom? Then it is undoubtedly time for a home upgrade.
Renovating your home can be very costly, and updating your floors may take up a considerable chunk of your renovation budget. But if you make smart decisions and narrow down your choices, you can upgrade your home and give it a luxurious feel by having new floors.
The following are some flooring ideas that will not break your bank:
1. Linoleum Floors
Linseed oil and cork powder are the main ingredients of manufacturing linoleum flooring, making it an environmental-friendly choice. The advantage of having a linoleum floor is that it is low-maintenance and long-lasting. Linoleum comes in sheets, tiles, and plank, and you can pick one as per your budget and choice. The floor is easy to install, and with the right pieces of equipment and appropriate tools, you can install it by yourself. A tip is to select a design with patterns, and it will camouflage the scratches.
2. Vinyl Floors
The vinyl appears shiny, and if they are of pastel shades, they give an illusion of larger space. Vinyl is a resilient flooring that feels soft to your soles. If you are looking for more comfort, then cushioned vinyl is an ideal choice for you as a thin layer of foam goes in it. On the other hand, thick vinyl gives you an option of creating patterns, and you can pick a textured one, giving a false idea of wooden flooring.
Vinyl flooring takes time to install. While your house is under renovation, it is better to find an affordable storage facility near your home. If you live in Texas, you can look for storage units to keep your furniture and other fragile items secure. Since you need to clear all the clutter from the ground to install floors, a storage facility will ease your problems regarding this issue.
3. Hardwood
Most high-end homes have hardwood floors, and they give the place a classy feel. Solid wood flooring is durable, easy to clean, and does not require regular maintenance. Wooden flooring easily blends in with all types of decor and amp up the house's overall look. Wooden flooring comes in various varieties; while some are costly, you can easily find striped or patterned wood floor options in your budget. Moreover, installing wooden floors boost up the value of your home. Another trick is to have a wooden floor in an area that does not get lots of foot traffic and have other floors in rooms.
4. Brick Pavers
One of the inexpensive flooring that are widely available is brick pavers hard tile flooring. Generally, they come in pavers, made up of sediments fire in a kiln and clay. The floors are not very smooth and require experts to install. If you want to have fancy brick, you can go for patterned or some fancy stamping. With stamped brick pavers, you will not need to lay carpets on the floor.  A wise approach is to have experts as it is heavy, its' handling is tricky, and it can be messy.
5. Turf
Who does not like to have luscious green lawns? The lawns are difficult to maintain and demand you to give water and do the trimming now and then. The brilliant idea is to provide an illusion of a grassy lawn by laying turf on the floor. It eliminates the need for regular watering, cropping, and clipping. High-quality turf is not expensive, and its colors are reliable as it does not bleed. You can lay the turf in your living room, gym, and play area of children or the kitchen. Turfs add to the aesthetic of the house and glam it up.
6. Tiles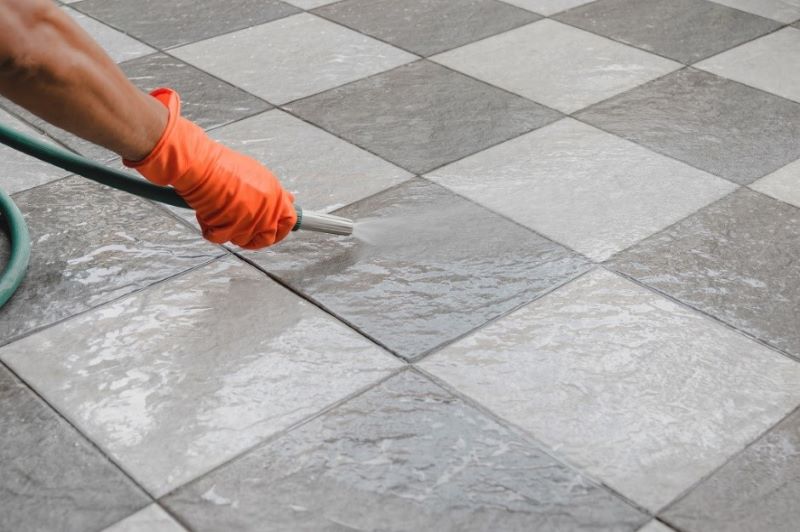 Having tiles instead of hardwood or laminate in your home is better, as it is one of the long-lasting options. People generally prefer ceramic tile as they have many designs available. It allows them to have different patterned floors in rooms. Tiles are of hard materials, and they come in several shapes and sizes. Glazed ceramic, porcelain, quarry, and terracotta are four kinds of ceramic tiles that vary in quality. With modern technology, you can get prints of wooden or mosaic flooring in tiles. It is an inexpensive way of giving a false idea of wooden floors.
7. Carpets
If you are in an apartment or have shifted into a rental condo for a shorter duration, you may not like to spend an arm and a leg on the flooring. It does not mean that you stay on rattled floors, as you still have an option of covering the old floors with decorative rugs. Carpets are very soothing to your soles and provide you with comfort. Besides, you can have carpet in one room and can have regular floors in others. Carpets can have different densities, and higher density means that the rug is durable.
Conclusion
Upgrading your home while ignoring the floor is never a good idea, as it will feel incomplete. On the other hand, installing new floors alone will create a unique look for the house. You can easily choose a better option that suits your budget as the choices are unlimited. But please remember the option you select should be durable and easy to clean. Otherwise, if you have kids, then cleaning up floor messes can become quite a hassle.
More related posts can be read on our flooring category page here.