You want to revamp your outdated kitchen look, you have the budget too but the hassle scares you off. There is no need to disable the most active site of your home. Remodeling your kitchen can cut back on your precious time and hard-earned money with some simple tips. There are ways to enhance the functionality and durability of your kitchen while at the same time uplifting the aesthetics. Here is how.
1. Draw attention to the walls
There are millions of options to highlight the walls. Paint them. Add tiles, Affix the tiled wall with a decorative margin, Hang your favorite art piece, Personalize with wallpaper, Bring a subtle change with wallpaper on the borders only and Focus on a singular wall with wallpaper and paint the rest of them with a contrasting shade. Bring a rustic appeal via wooden planks, Use faux tin sheets either as a backsplash behind the stove or over the sink. Add a tinge of glamour with a single piece of mirror or mirrored tile sheet.
2. Redo the cabinets
Kitchen cabinets are another huge interface where minimal changes can bring about an enormous change to the kitchen without spending a lot. If your budget allows you to be generous, change them altogether. Rta cabinets deliver a convenient solution to your doorstep. You can buy used cabinets and with refurbishing them for a new look. Changing the color scheme of the cabinets or refacing them; the options are infinite.
3. Change the cabinet hardware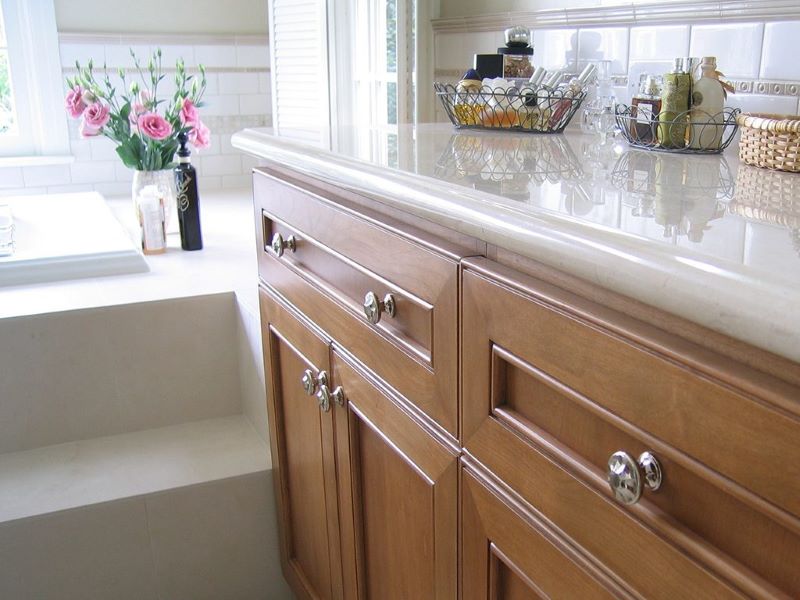 Changing the cabinets' knobs with the latest furnishings such as chic glass, classical brass, and vintage ceramic immediately uplifts the ambiance of the kitchen. Visit this kitchen cabinet store in NJ for more selection in pulls and knobs.
4. Redo the countertops
Polishing the marble tops, adding a granite piece to an outdated counter, and laminating, or painting an already laminated counter are some pocket-friendly options. Soapstone and limestone provide remodeling options without breaking the bank. Eco-friendly options like recycled glass or paper allow frequent remodeling for those who like to experiment.
5. Add wall shelves
Removing the cabinet doors and inserting glass shelves is a smart and modern alternative. The kitchen cabinet store ensures multiple options in this regard. Wall shelves are becoming the new trend for remodeling a kitchen. They not only look chic but add to storage space as well as serve a decorative purpose.
6. Make space for butcher block island
Create a cozy country look by placing a central butcher-block counter that serves a dual purpose of a workplace as well as stores pots and pans too. It saves precious space and adds to convenience and functionality.
7. Change the lights
A small change with a big impact; changing or adding some lights brings out minute details to the spotlight. Adding task lights in places such as above counters, under cabinets, and above the kitchen island are important changes to update a kitchen. Accent lights as track lights add to the decor and ambiance. Change the chandeliers with modern pendant lamps with an industrial and rustic look.
8. Create functional space
Adding pullout shelves, Lazy Susan, wine racks, and vertical shelves are some updated features that add functionality and enhance the storage of your old-fashioned kitchen.
9. Recreate the floor
Porcelain tiles are an affordable, durable, and versatile option if you want to remodel your kitchen floor.
10. Highlight with a bit of furniture
If there is enough room in your kitchen, accentuating with a parallel style of dining furniture also updates the whole look. If you are too tight on budget or space, adding a single piece of country-style chair or bench with a throw brings color to the bland look. Place an indoor plant or a few pots of herbs or go for a small bookshelf for your recipe diaries. There is no stopping at making your personal statement here.