DIY can be dangerous. You only need to watch a repeat of You've Been Framed to know that accidents around the home are a very real risk, especially when you're not exactly an expert. From taking a hammer to your own hand, to finding yourself frazzled by a socket, there are so many things that can go wrong during a DIY project, ranging from the minor and amusing to the much more serious.
Home is where the harm is
In fact, improvements in health and safety at work along with increasing road safety measures, mean that our homes are some of the riskiest places to be, accounting for 1,000 more injuries and deaths per month than our workplaces or roads.
Undertaking a spot of DIY can seriously exacerbate the risks we face in this unexpectedly hazardous environment. With around 7 million individuals attending UK A&Es as a result of an accident and the predominance of home and leisure time accidents and the message is clear: take care in your home – it's a riskier place than you think.
DIY in decline
Working on a DIY project is one of the riskiest activities we can perform in our (already accident prone homes). While some of us have decent DIY skills, practical abilities are in decline in the UK, which means more of us than ever before have no idea what we're doing as we wield screwdrivers and scale ladders.
One in three UK homeowners have regretted starting a DIY project, while 41% of 18-25 year olds would now hire someone to complete a DIY task for them. This "DIY decline" is also reflected in the dwindling profits of stores like Homebase. The DIY sector is shrinking at a rate of 13% per year as more and more of us step away from the tools and leave practical tasks to the pros.
But this doesn't mean we don't ever dabble in a spot of DIY ourselves. It simply means that, when we do, we're less likely to know what we're doing. Learning how to look after your home can be a great money saver and save you lots of time when a problem crops up, which means learning "how to" is a brilliant idea. However, while learning our new skills around the home, it's essential that we exercise caution and stay safe.
These top DIY safety tips will help you avoid accident and injury as you get practical around your pad.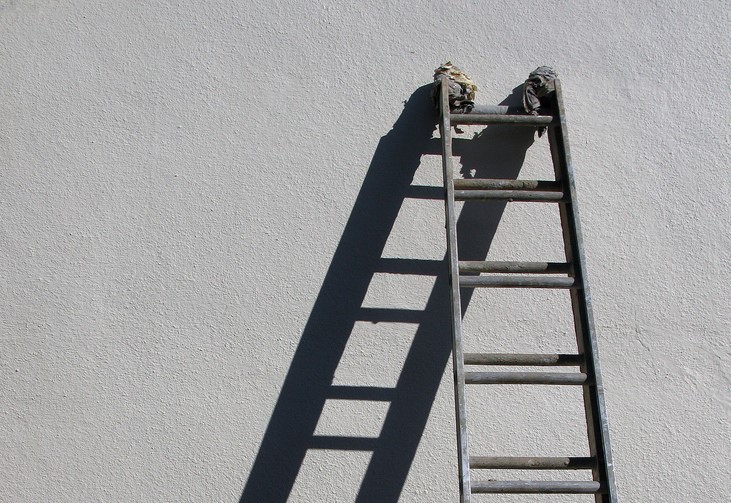 1. Use ladders correctly
A power tool may sound big and scary, but the innocuous-seeming ladder is one of the most dangerous DIY items in the home. Whether you're fetching something from the loft or painting your cornices, observing proper ladder safety precautions will protect you from nasty falls. A whopping 30,000 Brits wind up in hospital every year after falling from ladders and step ladders.
So, how can you stay safe? Firstly, ask someone else to spot you. Having someone else hold to the bottom of the ladder and pass you items that you require will help reduce risks and keep you safe.
Secondly, always observe the 4-to-1 rule. This means that for every four feet from the ground your ladder is, bring the base one foot away from the wall. This gives you the most stable base from which to climb.
Finally, ensure you're wearing the right footwear when you climb a ladder. Socks are slippery and can cause falls. Bare feet can leave you vulnerable. So, choose a sturdy pair of shoes with good grip before you climb any rungs.
2. Follow instructions carefully
In today's digital world we're all becoming remarkably impatient. With information and entertainment constantly bombarding and distracting us, we're increasingly unlikely to sit down and read something carefully, especially boring DIY manuals.
But following DIY instructions and reading manufacturer's warnings carefully is extremely important, particularly if you've never attempted a task before. Skimming through the instructions could lead to you missing one crucial step.
3. Be stringent about equipment
Whether you've hired a power tool from a local DIY shop or unearthed an old drill you found in the garage, you need to exercise caution even before you use equipment. Look for a UL mark on tools to be confident your kit has been tested to meet all essential safety standards and always check over any power tools before plugging them in. Look out for:
Frayed power cords
Cracked or broken casings
Any other visible damage
If you spot any of these issues, take the tool to a qualified technician for repairs to ensure you're 100% safe before you power up.
Once you're confident your tools are safe to use, make sure you keep them that way by treating and handling them with care. Never carry power tools by their cord and never ever tug on this cord to unplug them. Store all tools safely in a dry place and keep them away from heat, water, oil and sharp edges to ensure they remain in perfect working order.
4. Dress appropriately
Conducting DIY at home isn't a glamorous affair, so there are no prizes for fashion up for grabs. In fact, removing any accessories and ensuring your clothing is practical and close fitting is the best way to increase your personal safety. The clothing you need will depend on the task you're completing. Safety goggles, masks and gloves are essential when you're working with power tools, spray paint and glass. Rubber soled shoes are necessary when you're working with electricity.
5. Know your limits
"The wise man knows he knows nothing" is a good mantra to keep in mind when you're approaching a DIY task. If you've already followed tip two, you'll have carefully read all the available instructions and safety materials associated with your task, but if you still feel uncertain take a moment to consider whether or not what you're attempting is something you can realistically complete. If you're not 100% sure, don't take the risk. Instead consider enrolling in some DIY classes or asking a friend or family member to show you how it's done. To ensure you stay safe, don't undertake any task you don't feel completely confident about.