Are you home proud? Are you crazy about home parties?
Yes, it is indeed fun to have friends at your place and party through the night with good food, favorite drinks, and good music. Most of the people prefer home parties because it is just so convenient to stay back and is totally safe.
A home party calls for a well-kept home and sufficient party supplies. While most of the hosts struggle with putting the house back in shape, they seem to get impatient with all the leftovers. The food can be easily donated to an NGO and is usually not a hassle. The empty plastic soda bottles, however, can create a menace. You may just want to throw them all away, but those big 2L party packs can be put to a lot of use instead of just discarding them.
Wouldn't you want to do your small bit towards the environment by not dumping an alarming volume of plastic? These used plastic bottles can be used to create some fun DIY craft for kids that will be loved by everyone. The best part is that these craft items will add a unique personal touch to your home. Since these decor items are inexpensive, you will not have to think twice before changing them ahead of the next get together. Here is a quick guide to get started!
1. Colorful Horse
This easy to do and attractive craft will be loved by all for its amazing looks.
Get started with spray painting the bottle in your favorite color. Once the coloring is done and has dried, you will have to bend the bottle and twist it to create the horse's head. Follow this up with adding eyes and other elements of the horse's face (you can add these as per your preference). To finish this craft, just add a stick and a ribbon or rope. Your amazing little horse is ready to rock! While your toddler may not want to leave it alone at all, elders will also admire it equally.
You can also gift it to someone who is a DIY fan. Another way to put this craft to use is creating these horses for your terrace garden. It will add a pop of color to your personal green area and keep up your joy and spirit.
2. Easy To Make Lawn Sprinkler
There is a kid within each of us when it comes to playing in the lawn sprinkler, isn't it?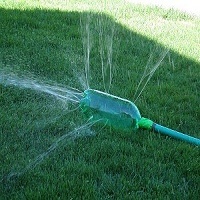 Come summer and we all want to do it. While you might have a lawn sprinkler already installed, what about creating one of your own? To play and enjoy in the sprinkler made by you can be super fun. Got those 2L plastic soda bottle at home? All you need to do is puncture few holes in the container and hook it with the garden hose. You have an excellent opportunity to personalize your sprinkler, too. Especially if you are letting the kids do this DIY craft, letting them decorate on their own can add to all the fun.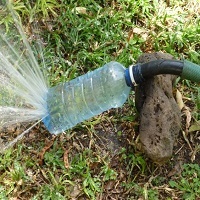 You can consider gifting it to family or friends on their house warming party to add some fun to the new house. The decoration can be jazzed up to suit the occasion.
3. Cute Chia Pets
Love keeping those Chia pets around the house and lawn? They are too adorable to ignore.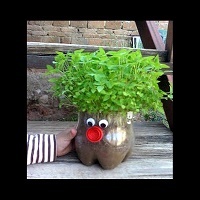 So, why not put those empty plastic soda bottle from the last home party to use? To make the cutest Chia pet at home, get the bottom of the 2L soda bottle by neatly cutting the bottle with a good bottle cutter. Keep the lid safe to create the nose (yes, the cap nose looks super cute!). Get two crafty buttons to create the eyes and you are done. Next, fill it up with some soil and your favorite seedling to add life to your Chia pet. You can use other decorative elements as well. Remember, it is made by you, so you can personalize it as much as you want. Keep them in a place where you can see them right in the morning. They are sure to cheer you up instantly.
Chia pets are a great gift material as well. Be it birthday, anniversary or a house warming party, you can gift this cutesy thing and be sure that it will not be forgotten anytime soon. The growing plant will remind them of you, for sure!
4. Colorful Tropical Fish
What's better than having a unique home decor done by your kid?
Such DIY crafts make your home memorable and a favored home party venue among family and friends. This colorful fish can be made in vibrant colors with a 2L bottle. All you need to do is cut the bottle using a good bottle cutter in the right shape as shown in image (so that it resembles the shape of a fish). Then let your kid add as many colors to the bottle to make it a pretty and attractive fish. You can choose to have colors that add a pop to your interiors. This fish can be a good summer project for kids, even the little ones.
This tropical fish can be a fantastic gift idea for the birthday of your child's friend. Not only will the other kid love it but will be encouraged to try his hands on a similar thing as well.
5. Pretty Bird Feeders
Do you love little chirpy birds hovering over your window or balcony?
Get to see more of them with the bird feeder put right there. Creating bird feeders out of used 2L soda bottles is a superb idea to use plastic waste consciously. You will have to get started with cutting the bottle in the right shape (as shown in image) with a bottle cutter. Next thing you need to do is paint it in beautiful colors of your choice. You can either paint them in your favorite colors in a combination or a single color. Since this is a bird feeder, you will have to keep it close to an open area where birds will visit often. Instead of painting them, you can also cover them in fabric swatches. Fabric swatches enhance the longevity.
These bird feeders made from the plastic bottle are a great gifting idea for nature lovers. Seeing it by their window every day will remind them of you, for sure.
We often invest a significant amount of money and time in finding the right home decor, gift items, and other accessories. Why not switch to making some good use of plastic bottles which otherwise would only clog drains and pollute landfills? While the wisest deal is to minimize usage of plastic but due to its widespread usage as a packaging material, it may not be the most practical thing to do. Therefore, let us at least work towards not discarding it irresponsibly.