How can you feel royalty in your bathroom? How can you give it that elegant feel, something that's customized to your desires and you fell in love with?
By making it a royal bathroom of course!
By choosing from different vanity styles you can make your bathroom vanity the way you want it.
You need to find bathroom vanity ideas to make it a dignified and worthy bathroom in your home.
There are quite a few bathroom vanity ideas that can transform the way your bathroom looks from something ordinary to something extraordinary. You'll start feeling like the king or queen of your bathroom with a few tips and tricks.
But what exactly makes a bathroom feel luxurious? What makes a bathroom vanity?
Is it the cabinets? The sink? The extra space in the drawers?
It's actually a variety of things that transform your bathroom into a magnificent bathroom. It's a combination of a bathroom sink and what surrounds it.
If you're unsure of what makes an elegant bathroom or where to begin, then here are 10 bathroom vanity ideas for your home that can transform the way you feel in your bathroom.
10 Bathroom Vanity Ideas
1. Find a Dresser-Style Vanity
Every dignified bathroom requires an elegant dresser. It can make your bathroom look modern. A dresser provides an additional grooming area and it adds a flair of style to the other furniture already in the bathroom.
The dresser style vanity offers something that blends with the room without standing out.
When you're trying to decide on what kind of dresser to purchase, look for cabriole legs and soft gray paint. It adds some vanity to the bathroom, giving it an elegant look.
2. Bathroom Vanity Cabinet
A bathroom cabinet can say a lot about your bathroom when it comes to making your bathroom beautiful and elegant.
Cabinets not only give you the space to store extra items, but they also give you the option to have unique cabinets. Some cabinets pull out drawers or offer a unique sleek appearance.
Having cabinets in your bathroom is essential to creating an illustrious bathroom.
3. Elegant Drawers
When you have a cabinet or a dresser, it's important that you choose drawers that match the style you're looking to have in the bathroom. For instance, it's important to choose something that is embellished and offers a unique look to it.
This adds flavor and beauty to the bathroom.
An example of elegant drawers would be oil-rubbed bronze hardware or adding a textural element to it.
4. Double Sink
There are a variety of sinks to choose from in terms of style and elegance. You also have a double sink in your bathroom, which adds more to a vanity bathroom.
If you have a double sink, it's important that they match in style and match the style of the rest of the room. This kind of double vanity adds a gorgeous makeup section and it adds separation between two people adding makeup or grooming.
5. Overhead Compartment for Extra Space
Having an overhead compartment offers additional space and added flair to a bathroom.
In addition, the overhead compartment can complement the dresser and the cabinets by having the same wood texture or style coloring.
6. Faux Furniture
Faux furniture is a traditional bathroom vanity that provides you and guests with breakfront cabinetry. This allows you to see through the glassware of the cabinet at beautiful collectibles and dishware.
Faux furniture can be placed above the sink, thereby adding more style to your bathroom and something beautiful above the sink.
7. Beautiful Painting
Whatever furniture and decor you decide to pick for your bathroom vanity, you'll want to ensure that the color of your bathroom matches it.
You can find beautiful bathrooms painted a soft, gray-blue, which easily blends into a room.
8. Antique Bathroom Vanity Styles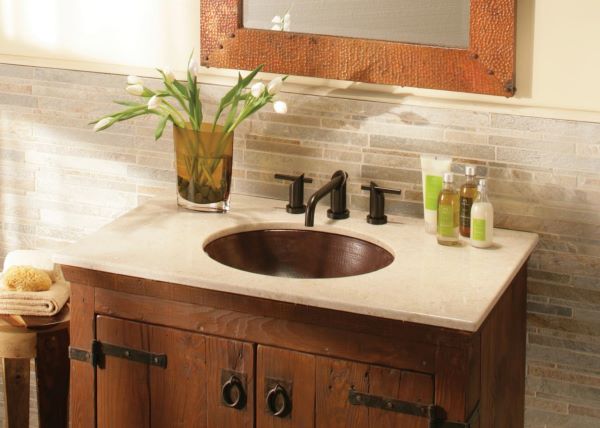 With a variety of bathroom vanity styles to choose from, antique bathroom vanity offers an older vintage style.
The vessel sink adds an elegant touch to it, in addition to the authenticity you can find with the table.
9. Modern Bathroom Vanity Styles
If you're looking for a more modern elegant design for your bathroom, you'll find that the structure of the modern bathroom vanity styles may fit your desire.
They come with natural textures. In addition, there is a traditional English walnut on the vanity. There are also modern stainless-steel drawers.
10. Your Personalized Bathroom Vanity
Another option if you don't like the modern or antique bathroom vanity styles is to create your own style.
You'll find an array of styles, if it's antique, cottage, or modern. The best part about choosing a personalized bathroom vanity is that it can be unique to you. You can choose a bathroom vanity without a top and decide to customize the top you want.
Whatever you choose, having a bathroom vanity the way you desire will make your bathroom magnificent because it's designed for you.
Ultimately, different bathroom vanity styles can make you feel like the king or queen you are in your bathroom, adding more style to your home.
What Kind of Vanity Bathroom Will You Be Choosing?
When you decide to turn your ordinary bathroom into something beautiful, you'll want the style to compliment the home.
You don't want a farmhouse-styled bathroom with a modern-looking home. It just won't match.
When you choose the kind of vanity bathroom you desire, you'll need to figure out what kind of style you would like and what compliments that style in terms of furniture, mirrors, and sinks, amongst other things.
Ultimately, having vanity bathroom ideas can transform how you and your guest feel in a bathroom. It can be a luxury rather than something dull and ordinary. You can make it an experience for anyone.