Bathrooms go out of style in just a matter of years, meaning that the old look you have in there will probably be out-of-date in a decade or two. That's probably why so many homeowners choose to remodel their bathroom first, above all other rooms.
But there is one small, teeny tiny issue with always wanting to remodel your bathroom to make it look new and improved – the budget.
You're probably wondering right now, 'How do I cut costs?' and, 'How do I stay within my price range?'
To be honest, it's not as easy as it looks. However, if you stick with our suggestions, you'll be on the path of least resistance. Here goes!
There are alternatives to tile – consider them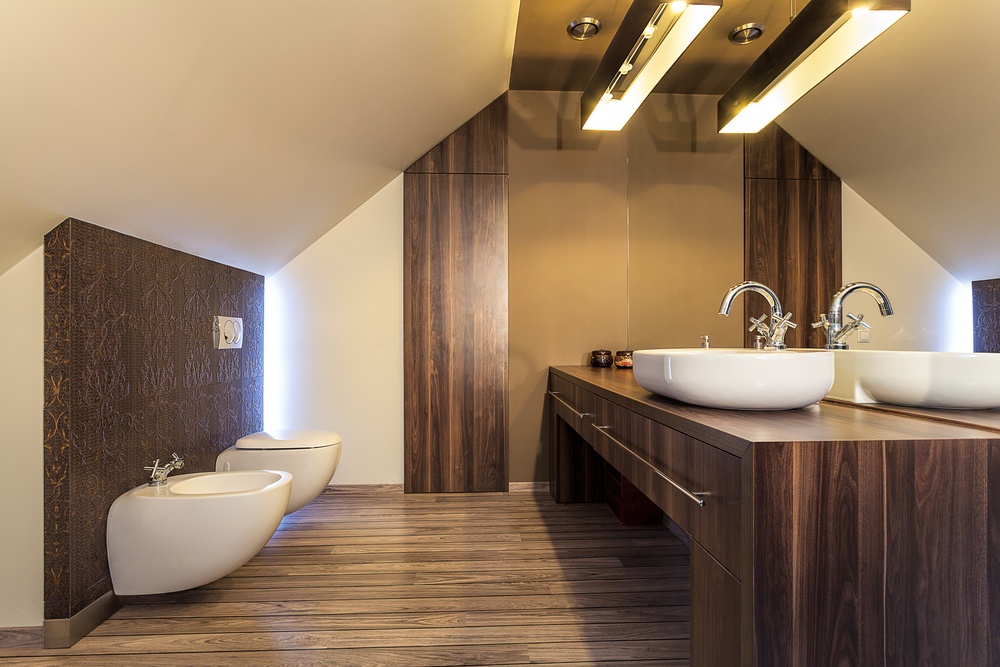 Tile is, by far, the ultimate 'necessity' in a bathroom remodel; homeowners think it's extremely important to have at least one aspect of that room covered in tile.
That's not necessarily the truth. Sure, you can have tile surrounding your shower/bathtub, and sure, you can have tile covering your floors; but you don't need to bombard your bathroom with the material.
Consider using reclaimed wood panels or beadboard textures. They may take a little bit more maintenance, but you'll definitely save money – and adopt a new look for your up-to-date bathroom!
On the other hand, if you're absolutely obsessed with an artistic tile that caught your eye, don't fret; you don't have to get rid of it yet.
Consider purchasing that a few of those tiles, and either spread them out around the bathroom or do what we like to do best – accent it in a column or row near a cheaper tile. This will add flair and grab everyone's attention.
Countertops don't always have to be expensive
Modern bathrooms have one main focal point: The vanity.
And, it's safe to say that the vanity is probably the most impressive aspect of the entire room. Especially if you pick out the right supplies to aid in its beauty.
Choose a slab of granite or marble that's breathtaking, but affordable. If you're looking to cut costs, consider opting out for colors like tan, brown, and beige, as these are the most popular and most expensive. Shift your color focus outside of this range.
Trying to cut costs even more? Look to buy a slab that has a few imperfections in it – the more imperfections you can see, the cheaper the slab will be. But hey, marble countertop imperfections can add an elegant look to the bathroom, especially considering the veining is always 100% unique.
Paint helps the budget
If you're on the lower scale for your budget, repainting areas of your bathroom may be most suitable. However, it will add a new 'splash' to your bathroom look.
You will want to get high quality paint if you choose this route, though. Aim to purchase paint with a satin finish, so it's not too bright and overbearing. You may also want to repaint the ceiling with special bathroom paint to avoid future mold growth.
Don't move the plumbing if you don't have to
Trust us and use the existing plumbing that's already set into place. If you do have to move the toilet, sink, or shower, each instance will cost you roughly $5,000 – and that's not a cheap remodel by any means.
Don't get a brand-new toilet, just update it
Moving the plumbing is costly, but so is replacing the main components.
If you have to get a new toilet, go for it. However, replacing your toilet entirely will be rather expensive, and it will require a professional plumber to come on site to rework the piping.
Instead, if your toilet is in good standing, just take the toilet seat and lid off and replace them with new, shiny accessories.
Think about implementing open shelving units
We understand you may be hesitant to consider this idea but hear us out.
The bathroom is, without a doubt, a private place. So, it's safe to say that you don't want the world knowing what you keep hidden in that room. Well, there's a way around that.
You can use the open shelving technique to 'create an illusion of space.' It'll work, believe us. But if you want that sense of privacy to stay, well, private, just pay attention to where you put things on the shelves.
Leave the lower racks for your towels, soaps, and other stuff. As for the upper shelves, add drawers or place covered baskets on the units; that way, all your privates can stay private.
Update the fixtures
The little details in your bathroom will make a huge impact in a remodeler's eyes.
Update the light switches to be more modern, replace the sink faucet with an elegant silver spout, change the towel racks to make them go with the theme, and update the drawer pulls to your liking. All the small things that you see, just change them up! Super cheap.
Remodeling your bathroom doesn't always have to be uber expensive, and we showed you exactly how. Think of it this way: It's the start of a brand-new look to your updated bathroom.