Everyone has a unique style preference for both their indoor and outdoor furniture. Choosing the proper outdoor furniture is a combination of your style, selecting the proper material and staying within your budget. The biggest mistake consumers make is to buy patio furniture, in haste, without considering their unique needs. The following guidelines will help you choose the best outdoor furniture for your home.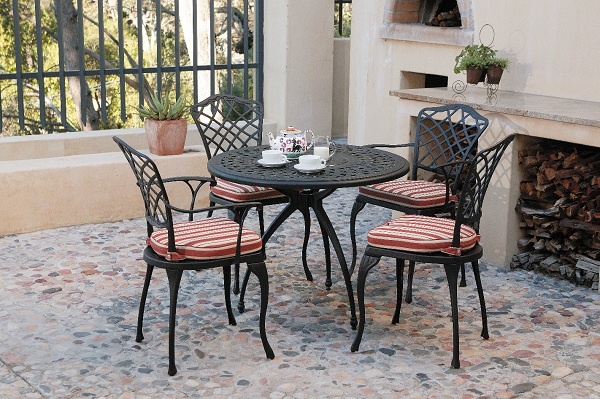 Material Choices
Wood is a very high maintenance material choice for patio furniture. Advances in new environmentally friendly wood help to assure a long lasting furniture. The truth is, all wood furniture will require regular maintenance to keep it looking nice.
Aluminum patio furniture offers you a fabulous alternative to wood. The initial price is higher than a wood product but the product is exceedingly durable. Aluminum is resistant to weather elements, salty air and humid conditions.
Stainless steel is a very low maintenance outdoor furniture option. Stainless steel is a viable choice if you prefer a modern look. However, you must ask questions to determine you are buying a quality product. What grade is the stainless steel? What finish was used on the product? A high quality steel will eliminate most corrosion; however, stainless steel will develop stains and discoloring over time.
Plastic yard furniture has become intensely popular over the past few years. Plastic outdoor furniture is utterly durable and available in a number of shapes and styles. You must remember, not all plastic furniture is equal. Some are unable to withstand prolonged sun exposure or humidity without warping. You need to check the plastic's ultraviolet (UV) rating for a determination of its response to the sun. A low UV rating will cause plastic furniture to crack and bubble from constant exposure to everyday weather elements.
Wicker furniture is strikingly distinctive and offers a vintage flair to an outdoor space. Wicker is extremely light weight, this provides anyone the ability to arrange or carry the furniture. Wicker furniture is easily damaged by weather elements, people and pets. Most wicker furniture is only available in large pieces, so adequate patio space is required.
Choosing the Right Items for Your Outdoor Space
Many consumers neglect to consider their available space before purchasing new lawn furniture. It is counterproductive to buy gorgeous new patio furniture without first evaluating the amount of room available. You must measure your area before you go shopping. Bring these measurements with you when shopping. The measurements will help you select the proper sized outdoor furniture for your space. Researching different materials and styles will be a waste of time, if you buy furniture too large for your garden area.
How Comfortable is the Furniture?
Selecting the proper patio furniture, is as much about comfort, as it is about durability and style. Uncomfortable furniture will sit outdoors and look nice, but will never be utilized. Check the level of comfort in an array of styles and materials. You may be surprised at just how comfortable some furniture is or is not.
Storage Options
A vast majority of consumer neglect to consider how the outdoor furniture will be stored during the off-season. Ask yourself; do I have room to properly store this out of sight? Am I willing to buy appropriate covers to keep the furniture protected during the long winter months?
If you thoroughly consider these options, you will easily find your perfect outdoor furniture. Researching all of your available options will lead you to the best garden furniture for your style, budget and space.