From this point forward, you and your spouse are officially a married couple. The challenge now is to find a home in a perfect location for building a family. And once you find the ideal place where you'll start your life as a married couple, you need to begin your preparations for the big move.
In this case, most newlyweds face the struggle of merging appliances, furniture, and other items from two previous "single" households. To avoid overcrowding your new home and start the moving process on the right foot, here's a step-by-step guide.
1. Start as early as possible
The key to enjoying a stress-free move lies in planning and starting early.
As a couple, you shouldn't be too complacent about your pre-move situation. As soon as you've finalized your move date, make concrete plans and work through them without delay.
Being hurried at the last minute will cause you to forget many important things which can lead to unnecessary costs and frustration. Procrastination is a bad practice, so allow yourself more time for your house move by getting down to work immediately.
Plan ahead at least six weeks before your moving date.
Create a moving checklist – You already know how important it is to start early, but do you have a clear understanding of which tasks to prioritize? List down the things you need to do for your move from the most important to low priority ones.
Take an inventory of your items – Create a detailed list of everything you own. Your spouse should also do the same with his or her belongings. Then, later on, you and your partner can both decide which items you'll be taking with you to your new home. A detailed home inventory helps you understand the worth and volume of both you and your spouse's possessions to avoid duplicates and fill in any shortages.
2. Hire a removal company
Hiring a reliable local removalist is an important consideration to make if you want your move to go as smoothly as possible. Before you rush to hire one, below are important questions you should ask to ensure that you don't end up working with a bogus or unreliable removalist:
Do you have a license or are you members of industry associations?
Do you have experience similar to our particular type of move?
Do you have a cancellation policy?
Will there be any extra charges?
How long will the move take?
What different methods of payment do you accept?
Does your company provide liability coverage?
Can you provide references?
Asking relevant questions will allow you to evaluate the removal company and whether the services they offer actually cover all your moving needs.
Keep in mind, that not all low-cost removalists will allow you to save money. Instead of focusing too much on how much you can save, put more emphasis on the removalist that will give you the best value.
3. Get rid of items you don't need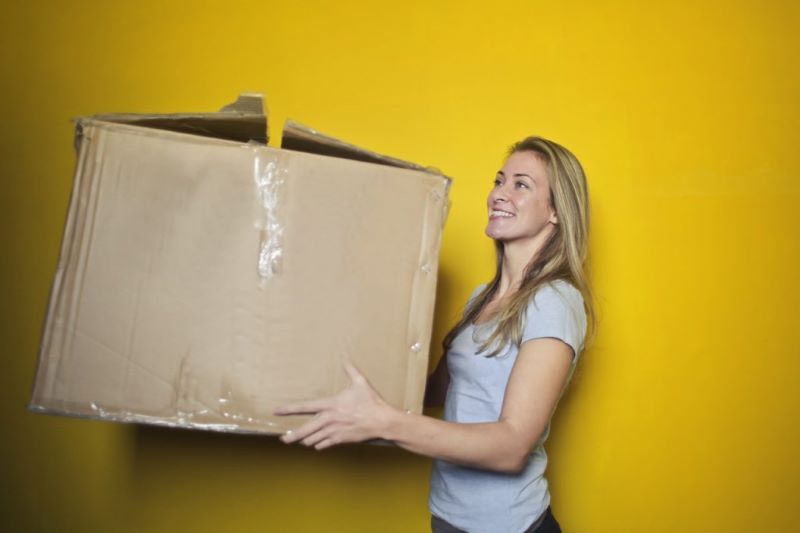 To save on relocation expenses, the best rule to follow is to don't take items that you won't need with you. If you see in your inventory list that you have three toasters and a couple of microwave ovens, eliminate these duplicate items by donating them or putting them up on a garage sale. Keeping only the things that you'll need will also save you time when you start packing.
If you have plenty of wedding gifts, put unpacking or unboxing them on hold as they'll be best protected in their original packaging. Also, if you have received gift cards from your wedding, consider using them after you've moved to your new residence before using them to buy products or services.
4. Pack efficiently
Few individuals look forward to the idea of packing. However, it's crucial that both you and your partner know how to pack for a move to ensure the safety of your belongings during transit.
Gather packing supplies – You have to prepare different sizes of moving boxes or cartons as you'll also be packing items of different sizes. You will also need bubble wrap, packing paper, wrapping sheets, scissors, marking pens, and packaging tape. It's also wise to consult your removalist for any recommendations on the best packing supplies.
Assign a packing station – You'll need a wide, open space where you can gather all your items and start the packing process. After all, this is the area where you will place boxes and other packing materials to get things done. To avoid confusion and chaos in the household, use this space dedicated only for packing-related activities.
Dismantle large items – Take apart large items such as furniture and place all hardware inside Ziploc bags. You may also consider taking photos of complicated setups like the back of your TV so that you have a quick reference later. This will make it easier for you to put everything back together after your move.
Wrap each item properly – Make use of adequate layers of bubble wrap, wrapping sheets, or clothes. Place items inside their designated box with care and in the best position possible to prevent damage. Place heavier items at the bottom and put lighter items on top. If you have items that can still be put back in their original packaging like china and electronic gadgets, do so.
Group items together – Fill boxes with items of similar content. You may opt to group items according to type or by room. Make sure to clearly label each box with a list or description of the contents and the room to which it belongs.
Separate first-night essentials – Those items you'll need on your first night in your new home should be packed separately. This includes items like a change of clothes, basic toiletries, and a first aid kit. Separating your first-night essentials will save you from the hassle of going through tons of boxes when you get to your new place. Your essentials box or bag should be kept on your person or inside your vehicle during the move.
5. Clean up your new home
After the removal company has delivered your possessions to your new home, all that's left to do is to unpack them. Arrange your items according to the place they belong and once you're done, do some deep cleaning to remove any lingering dust and dirt.
Make your bond stronger during the move
As a newlywed couple, expect changes to come into your life fast. The best thing you can do to adapt to these changes is to work together. During the move, be ready to compromise with your partner as you'll be making tough decisions (especially with regard to which duplicate items should stay or go) that may lead to a bit of heightened tension.
Most importantly, don't let the stress of your house move take the fun and excitement out of your new married life. Bond with your partner by playing around or designating a day to shop for items needed for your new residence. Take this opportunity to get closer to your spouse as you build your new life in your new home together.