Home décor can be a great pastime, especially if you have a creative and artistic side. Whether you have an ample space or a small one, living on personal property or renting, there is always something you can do to give the place a personal touch. The decoration of your home, your living space or working area is a reflection of your personality. Whether you want to reflect your eccentric or practical self through your décor, it is up to you. Most of the living space is occupied by essentials like furniture, furnishings or other essentials etc. but there is always that one area or a wall in your room that begs for your attention.
You can make it look unique and stand out, or you can work on blending it in with your surroundings. It depends upon your aesthetic sense, but if you are looking for some ideas on how to spruce up that dull wall in your room, then you can continue to read and do your take on your wall décor.
1. Gallery Wall
A gallery wall look never gets old. You can have it custom-built, or you can do it on your own by the mix and match strategy. You can put up family and friends' photographs on the gallery wall, or you can have inspirational or quirky quotes printed and framed to be displayed on your gallery wall. If you love traveling or have traveled, you can also frame the postcards and make your gallery wall a global wall. It can work as an inspiration for your visitors to plan out a trip to a famous travel destination.
A gallery wall can be a great trip down the memory lane if you start with pictures from your childhood to adulthood and all the milestones in between. You can go any way you wish. You can have your photographs or that of your ancestors. I would personally love a gallery wall in my house, and if I have a plain wall where I can make a montage of my life memories, I will go for it in an instant.
2. Hang Mirrors
Mirrors are a staple in most of the bedrooms, would you want another one in your bedroom to cover up that plain wall? It can be a great addition to any room, let alone a bedroom. The reason is that a hanging mirror on the wall gives a spacious look to the room. A room that has a huge mirror in addition to a collection of small mirrors appears spacious because of the reflective effect of mirrors. So, if you have a tiny room and want to make it look bigger and have a bit of extra space on one of your walls then try going for a hanging mirror. An interesting thing about hanging mirrors is that they come in various shapes or styles. You can have any cut or design you wish to adjust to space in your room.
If you are not looking for a reflective effect, you can go for tinted mirrors as well. They can add a pop of colour and a unique ambience to your room. A collage of mirrors of different shapes can also experiment. Abstract art of mirrors on your plain wall will make your room and wall stand out.
3. Wall Art
Wall art for a plain wall is always a safe bet. You can experiment with a variety of options available in that respect. If you are living on a rented property, then it is always better to go for something that can be taken off and moved easily, and such wall art comes in the form of tapestries and other wall hangings. If you want to go big and dramatic and have an inclination towards modern art, it is even easier now to order canvas prints online. There is a lot to choose from when it comes to canvas prints. You can custom order a print or get one that is already available. So if you wish for your room to have a certain theme, then you can order a print that blends in with your overall theme instead of just having a random art piece in your room. Canvas prints have become famous recently, and if you are looking a contemporary look, then this kind of wall art for your room wall will fit in well with the current trends.
4. Paint a Mural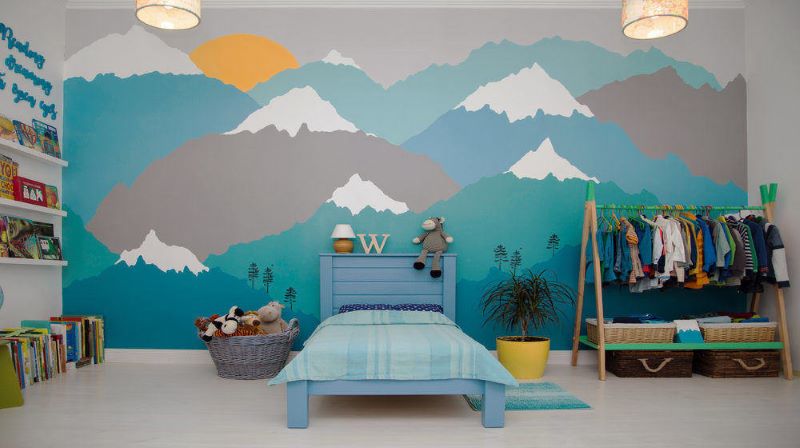 If you are an artist or have a young artist at home who loves to sketch on walls, then put the skills to good use and paint a mural on your plain wall! This is an amalgamation of old and new. You may have been committing a faux pass with a mural in the past but painting a mural in a modern-day home is just one of those things that blend in instantly with the contemporary lifestyle.
You do not need to paint a mural yourself, you can hire an expert to do it, or you could simply get a wall covering with the motif of your choice that will give the same impact. A wall covering with a custom-designed motif for children can be a great addition to a home where the kids love interactive games.
5. Install Shelves
There is a problem faced by many from time to time, and that is a lack of storage space. Your cupboard may not have enough space to house your books or any other accessories, and that is when you feel the need for shelves. What better place to install shelves than a plain empty wall in your room. What is better, you can experiment with any style and colour for the shelves. If the room walls and the overall colour scheme is drab; otherwise, you can add a pop of colour by going for colourful shelves. Books on wall shelves have their charm, and you can bring that to your room easily by the quick installation of smart shelves.
6. Hang a World Map
I would not personally mind a world map on my room wall. It can be a great impetus for a traveler's spirit. You can personalize the map by lighting up those places on the map you have visited or want to visit. It can have an aesthetic as a well inspirational effect.
7. Personalized Wall Decoration
If you do not want to add an extra feature to your room by hanging wall art or painting a mural or adding mirrors and shelves, then you can simply decorate the plain wall in your room. Accent walls break the monotony of same-coloured walls. Alternatively, you can add patterns and designs on the plain wall to give a minimalistic artistic touch to your room.
Conclusion
Painting and decorating your room wall does not only add an artistic touch in your room, but it is a great way to pass the time as well.