The living room is often the hub of a house; it's where you entertain guests on weekends or where you kick back and relax after a long day at work.
However, whether you live in traditional or modern homes, the living area is typically where the TV, computer, books, and other stuff come together. These can quickly fill up space and create clutter, making people think that a larger living room is better-and that's not necessarily true.
In an interview with the Architectural Digest, interior designer, Christina Murphy, says that the best way to approach any living space is by evaluating what the room's best assets are, and making those a focal point.
If your living room has great light, take it up a notch using light-colored paint and furniture for a sense of expansiveness. Got a lot of wall space? Make the most out of them by putting up decorative shelves and big mirrors.
Whether you have a small or a big living room, here are some more pro tips to help you maximize your living space.
1. Decorate with oversized mirrors
According to Freshome, it's best interior design practice is to place mirrors in small rooms to make them feel more spacious. A common living room design idea is to hang a large mirror in a central location and attract attention to that area.
If you want to add additional light and ambiance to the room, place the mirror behind a light source such as a candle or a floor lamp, so the light gets reflected. Another ideal position for a big mirror in the living room is across the window so that it reflects the view and gives an impression of another window.
2. Use same color paint all around, in different shades
Many homeowners use white paint for the wall trim and ceiling. However, the trim and ceiling both have as much visual impact as the walls, so it's important to tie their paint colors in with the rest of the space.
The writers at HGTV recommends using one color consistently through the living room, and a slightly lighter shade for the ceiling, and a darker one for the trim.
3. Scale down if needed
Homeowners with living rooms with limited spaces need to be selective with furniture. Freshome says that it's important to find tables, decorative pieces, and upholstery that don't overpower the room or dominate the space such as a sofa with no arms, But if space is really tight, maybe you can do without a big couch completely. Opt for a loveseat or two big chairs around a coffee table instead.
Murphy in her interview with the Architectural Digest also recommends using leaner tables and wall sconces to save precious floor space.
4. Use vertical space
In an article for Forbes.com, Houzz writer, Victoria Harrison, says that some homeowners ditch shelves to save floor space and money.
While that's smart, if you have bare concrete pillars like this, simply install metal shelves to support a tall stack of books or maybe some decorative pieces.
Tall book towers can actually get expensive, so these affordable and compact bookshelf brackets can be an affordable option and build instant shelving.
5. Place mirrors on the entryway
If you have a cramped entryway going into your living room, decorative mirrors can make it look brighter, according to HGTV.
A trio of mirrors like the ones stacked on top of each other in this photo can bounce the natural light from the living room, making the otherwise dark entry into a nice-looking space.
6. Put the coffee table on double-duty
Harrison, in her Forbes.com write-up, also suggests making coffee tables do extra work. If homeowners who want to maximize the living room space will get a coffee table, it's smart to get one with lower shelves or drawers like this one.
7. Use neutral colors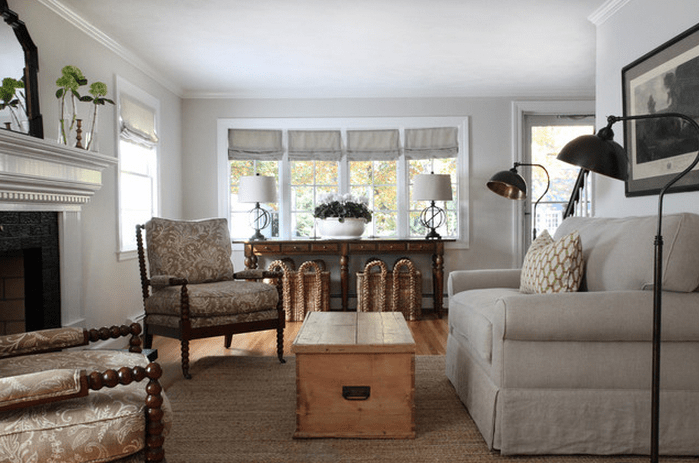 Freshome says that a popular small living room idea is to use neutral colors on walls, floor, ceiling, and furniture upholstery. Off-whites and beiges can help create an illusion of space, as they appear to push back the walls and they reflect light more.
HGTV also suggests tying in adjacent areas like hallways and entryways to the living room by using neutral tones in these areas. Doing so will also make the limited living room space look more expansive.
8 Frame the TV
Another recommendation by Harrison from Houzz is to frame the television. Instead of hanging the TV on an unadorned wall, frame the TV with a shelf instead. The shelf will add multiple storage opportunities for your entertainment system and help the TV blend more into the room's design.
9. Use concealed or decorative storage furniture
Aside from coffee tables, there are many other types of furniture and ways to do hidden storage. HGTV lists upholstered storage ottomans as a great choice, as they often appear solid and seamless to camouflage its utility feature.
Decorative boxes or console tables with drawers were also recommended to keep necessary clutter out of sight. You might also want to consider a great-looking end table beside the couch with a discreet storage like this one.
10. Maximize wall behind the sofa
The wall behind the couch often ends up filled with hanging decorative or photo frames. In a small living room, however, Harrison says that it's a smart idea to install a shelf instead. This way, you can use the space for a variety of things such as books, art pieces, or even frames. You might even want to double up the shelf for twice the storage.
Your living room-whether it's big or small-don't need to look or feel cramped. With these pro design tips, you can make most out of the space that you have and enjoy your living area for what it is: a sanctuary built to relax and entertain your family, your guests, and yourself.