Artwork is the quickest and most budget-friendly way to update or change interior design both at work and at home. Fortunately, modern printing technology allows prints to be created from any image on a wide variety of materials to meet any design needs. The two most commonly used mediums for interior design prints are canvas and paper, but which should you choose?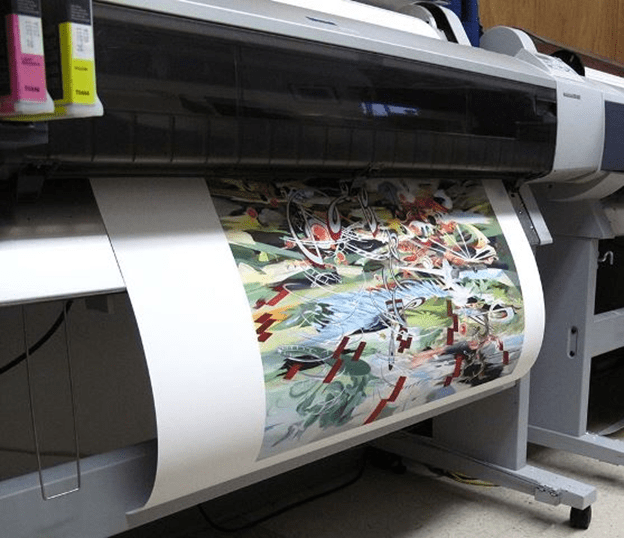 Benefits of Paper Prints
Perhaps the greatest advantage of paper prints for interior design is the ability to change them on a whim. Paper prints are typically placed in a frame, with or without matting as a border. The print can be easily removed from the frame and replaced with a new print as needed. Perhaps the image needs to change with the season or for specific events, or maybe there's simply a desire for variety–no matter what the reason, changing the image is easy.
Paper is ideal for extremely high-quality photos and graphics with fine details that should be shown off rather than hidden by texture. Different frames and matting can also be used to change the look and effect of a paper print without altering the original.
Disadvantages of Paper Prints
Paper prints typically require a frame with glass to protect them and make them look nice for hanging. Unfortunately, quality frames can be rather expensive and should be taken into consideration when budgeting for your interior design project.
Benefits of Canvas Prints
Budget and environmentally friendly, canvas is a textured material traditionally used for painting to add dimension to the artwork. The ink used to print on canvas is typically much lower in VOCs (volatile organic compounds, which are toxic chemicals) than traditional ink and there is no need to purchase expensive frames and mats to make the piece look polished.
Canvas prints can be created in a wide range of sizes and can even be created in panels to create a larger image or collection of images that flow together nicely for a unique visual effect. Nearly all photos and images can be transferred to a canvas print without losing image quality. In fact, printing on canvas can make low-quality images look more refined because the texture takes away from any grainy or blurry areas. Many images instantly look like a piece of painted artwork when printed on this particular medium.
Disadvantages of Canvas Prints
While canvas prints have many advantages that make them stand out in the design world, there are a few drawbacks to consider. Unlike paper prints contained in a frame, canvas prints cannot easily be changed. Instead, the entire piece must be replaced when it comes time to update the decor or when damage occurs. Canvas prints also stick out further on the wall than most framed artwork which may be inconvenient in certain locations or settings. The texture of canvas may take away the impact of certain images, even though it can improve the look of many other images.
When selecting a print medium for an interior design project the specific graphics being used, as well as the visual effect desired, should be considered carefully. People wanting a more traditional, regal decor theme may want to consider traditional paper prints in frames for their interior design projects. Those looking for a crisp, modern and versatile decor theme are likely better off selecting canvas prints for their projects. While both mediums have their place, canvas printing has quickly become the preferred medium for most interior design projects for both its versatility and cost-effectiveness.
If you are interested in canvas printing in Denver CO visit this link.